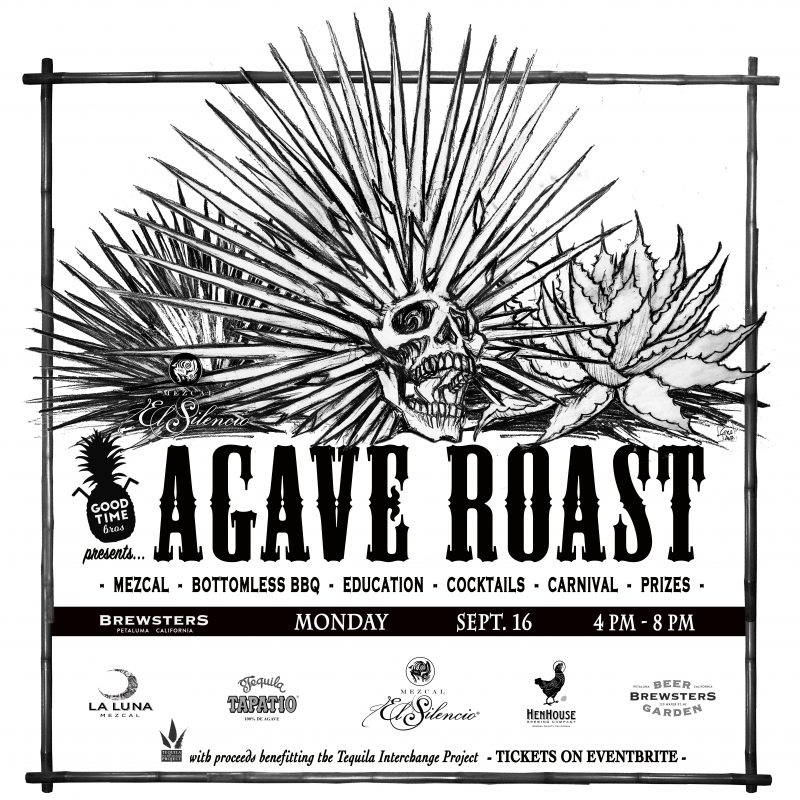 Join the Celebration
The Good Time Bros are teaming upBrewsters Beer Garden with Mezcal El Silencio, La Luna Mezcal, Tequila Tapatio and HenHouse Brewing and Brewster's Beer Garden to throw a party that you will not want to miss…
AGAVE ROAST at Brewster's Beer Garden,
SEPT.16.2019
4:00-8:00PM
229 Water Street North, Petaluma CA
Join us as we celebrate the irresistible joys in life: friends of all kinds, exciting games with generous prizes, all-you-can-eat BBQ, and delicious distillates of the magical Agave plant. What's more, we continue to give back… this is a minimal waste event and certain game proceeds will benefit the Tequila Interchange Project, a small part of a greater movement to uphold higher standards for agave sustainability and healthy ecosystems in mezcal/tequila production. This is a 21+ event for humans only (sorry, no dogs). Limited tickets available.
**
The Game Plan
Doors open at 4pm
Games including( but not limited to)
Bobbing for Bottles
Mystery Box
Planko
Balloon Darts
Bocce
Cornhole
Cocktail Specials by Brewster's, featuring Mezcal El Silencio, La Luna Mezcal, and Tequila Tapatio
Boiler Makers featuring Henhouse Beer Pairings
Silencio Slushies
Mezcal El Silencio Bloody Maria & Michelada Bar
Educational Spirit Tastings
Unlimited Prizes
Unlimited BBQ (from 5-7:30 )
Talent & Entertainment
Ticket FAQs
This is a 21+ event (please, no dogs)
Tickets are $25 per person when purchased through EVENTBRITE and $30 at the door
Each ticket includes
General Admission 4-8pm
1 Drink Ticket for one specialty cocktail of your choosing*
1 Game Ticket for carnival game of your choosing*
Bottomless BBQ from 5pm-730pm
*additional drink and game tickets available for purchase at event
Prizes are abundant and accessible (eg. gift cards, swag, distillery tours…)
NOTE: Event will end promptly at 8pm, so arrive early!
Industry Friends: Bring a paystub or personal business card from your place of employment to receive 1 extra drink ticket (for educational purposes, of course)
Getting here
Come up and get down in the safest way possible!
In order to do so we have local train schedule here and local bus schedule here
As always, Uber and Lyft will be available in our area
Imbibe responsibly!
Don't forget your friends
Share the Facebook Event Page and invite your peeps
Still got questions?
Email Holla@goodtimebros.com