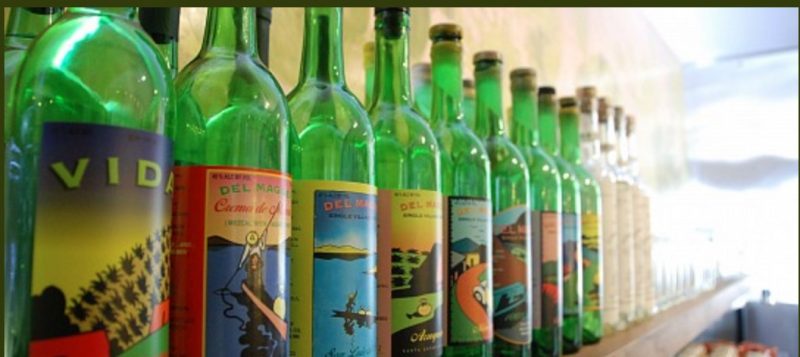 Monday, September 14, 5:00pm
Del Maguey Core Village Virtual Tasting $50
*Purchase all 4 tastings for $200 – a $45 discount*
Nopalito is excited to announce the first in a four-part tasting series with our dear friends at Del Maguey. We believe there is magic in the sharing, sipping and discussing of mezcal. If we cannot (for now) do so in person, we will do so virtually. Together, we will continue learning, educating and celebrating.
¡Saludos!
This tasting features mezcal from three core villages – Chichicapa, Santo Domingo Albarradas and Las Milpas. In this tasting we will discuss the espadin agave used to make these three mezcals and highlight the differences in the three villages, the palanqueros (producers) and their production styles.
Included in this tasting set
– 3 x 2oz tasting bottles
– Tasting wheel and tasting cards
-3 copitas
-Our spicy crunchy garbanzo beans (to snack on while sipping)
-Invitation to a virtual Zoom tasting
Future Tastings
Monday, September 28 : San Luis del Rio – SLR, Azul, Madrecuixe – $65
Monday, October 12: Santa Catarina Minas – Minero, Arroqueño, Barril – $65
Monday, October 26: Santa Maria Albarradas – Espadin Especial, Tobala, Tepextate – $65
About Del Maguey
Del Maguey (pronounced ma–gay), Single Village Mezcal was founded in 1995 by internationally renowned artist and mezcal visionary, Ron Cooper. Ron introduced the world to previously unavailable artisanal mezcal produced the original handcrafted way. Through deep cultural relationships with native Zapotec Mexican producers in the remote villages of Oaxaca and Puebla, Mexico, Del Maguey harnesses ancient, original organic processes. Combining these methods with varying micro-climates and terroir gives each creation its own unique, rich, sweet and smoky character. Every product in our collection is made by individual family palenqueros (producers) in old-style villages. They are the first producer to credit each product after the village where the mezcal is made.
About Your Host – Max Monroe
Originally from Southern California, Max Monroe has lived in the San Francisco Bay Area for the last 12 years. Spending most of that time working as a bartender at various establishments in San Francisco, Max became captivated by agave spirits from Mexico. An avid fan of tasting spirits and studying cocktail history, Max is a graduate of BAR's 5-Day certification program. He has been working with Del Maguey since 2018 and covers the Northwest United States. Max lives in Bernal Heights, San Francisco with his wife, Liz and daughter, Marlena.